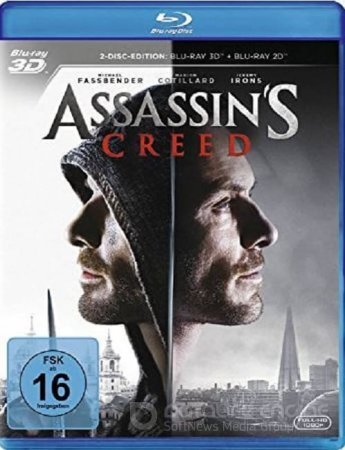 IMDB: 5,8
Assassins Creed 3D 2016
Assassins Creed (título original)
Pais:

England

Director:

Justin Kurzel

Reparto:

Michael Fassbender, Marion Cotillard, Jeremy Irons, Brendan Gleeson, Charlotte Rampling, Michael Kenneth Williams, Moussa, Denis Mnochet, Ariane Labed, Khalid Abdalla, Essie Davis, Matias Varela, Callum Turner, Carlos Bardem, Javier Gutirrez, Hovik Keuchkerian

Genero:

Fantasía 3D, Aventura 3D, Thriller 3D

Idioma:

English, Spanish, French, Portuguese, Russian, Ukrainian

Subtítulos:

English, Spanish, French, Danish, Finnish, Norwegian, Portuguese, Russian, Swedish, Estonian, Latvian, Lithuanian, Ukrainian
La película de descarga 3D Assassins Creed está basada en la famosa serie de juegos Assassins Creed. Cabe señalar que la trama de la película 3d fue diseñada específicamente para la pantalla grande y no tiene nada que ver con la trama de los juegos, pero, por supuesto, la película 3d será interesante tanto para los fanáticos de la serie de juegos como para los ordinarios. espectadores, fanáticos de las buenas películas fantásticas.

El criminal Callum Lynch (Michael Fassbender) es salvado de la ejecución por la misteriosa corporación Abstergo Industries, que es la reencarnación moderna de la orden de los Caballeros Templarios. Ahora se ve obligado a formar parte de un proyecto llamado Animus. Con la ayuda de tecnologías especiales, Callum libera la memoria genética de su antepasado, el asesino Aguilar de España en el siglo XV. Cuanto más Lynch experimenta los recuerdos de su antepasado, más experiencia y habilidades adquiere para contrarrestar a los Templarios, los eternos enemigos de los Asesinos.
¡Únase a nosotros en
Telegram
y sea el primero en enterarse de las actualizaciones!




You bought a premium. Contact the TakeFile support team, they will increase your traffic up to 512 gb every 48 hours.

Link Dead? Please let us know and we will fix it!